[This post takes 2-4 min. to read]
Hi guys!
So, today is going to be the last biology post for a while. The next blog post will probably be something about physics.
So, today's post is going to be about [drumroll] nerves and neurons! Yeah, I know. You're probably just like meh, who cares? But I promise, this stuff is actually pretty interesting.
Yep. LET'S DO THIS!
What is a neuron?
A neuron is a highly specialized cell that transmits messages in the form of electrical pulses. The longest neuron is about 1 metre long, and there are about 86 billion neurons (give or take a few billion. No, this is not sarcasm. I'm being very serious.) in only your brain!
Neuron Structure –>
Neurons are complex cells with even more complex structures. I know, it looks scary and your mind is probably in overdrive right now… But no. We're just going to decomplexify (that's a real word, by the way) these very complex structures.
Nucleus- Come on. You know what a nucleus is.
Soma- This is just a fancy word for the cell body- which is the roughly spherical part of the neuron that houses the organelles.
Dendrite- This a special extension from the soma, called a process. The dendrite processes receive messages from other neurons.
Axon- The axon is also a process and it transmits messages.
Myelin- Myelin is also known as the myelin sheath. They are a series of fatty wrappings along the axon- their function is to insulate the axon and prevent short-circuiting or fettering away of electrical impulses.
Schwann cell- Produces myelin.
Node of Ranvier- Gap between two myelin segments.
Axon terminal- Also called a synaptic bouton. This is the part of the axon that establishes connections with other cells.
Types of neurons –>
There are three main types of neurons- unipolar, bipolar and multipolar. All three differ very slightly in structure, but have the same function.
Bipolar- The soma is located between two processes.
Unipolar- A single process extends from the soma and then splits into two.
Multipolar- These have 3< processes, but only one axon and how many ever dendrites.
What are glial cells?
Hmm. Fancy word alert! Anyways, glial cells are cells that aid, protect and nourish our neurons. They are extremely important in keeping neurons healthy, and glial cells are also called neuroglia. There are five types of neuroglia.
Oligodendrocytes- These provide a support framework and nourish myelin sheath segments.
Ependymal cells- Make a barrier between neurons and other things [No, I'm just being dramatic. Sorry.] with the use of cilia.
Schwann cells- Once again, you already know.
Microglia- They are the main form of immune defense [for neurons].
Astrocytes- These guys are named after their star-shaped appearance and they provide support and nutrition to their fellow neurons.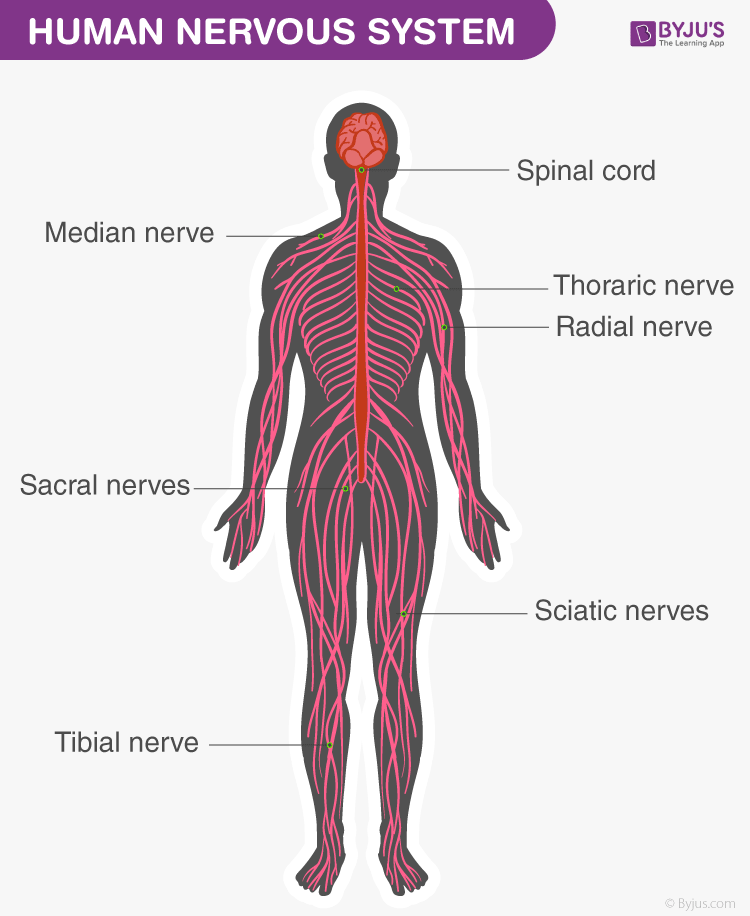 What are nerves?
Nerves are long, rope-like cords of tissue responsible for transmitting messages across the human body. The tissue which nerves are formed of are themselves made of neurons. The thickest nerve in the body is the sciatic nerve- which is the width of a man's thumb at its thickest point.
Epineurium- A strong, protective covering for the entire nerve.
Artery and Vein- You guys already know this. Come on.
Fascicle- A bundle of nerve fibers.
Perineurium- This is a sheath-like wrapping for a fascicle.
Endoneurium- Delicate connective tissue also called the Henle's sheath that wraps around each individual nerve fiber.
So, we're done with all the structures and functions. But, we're forgetting a prime part- how neurons work. We're going to be covering that using memory and forgetting as an example.
Memory and forgetting –>
Memory is basically the constant reactivation of a specific group of neurons. If a stimulus is picked up by the brain, a particular group of neurons will fire, forming connections. The group of neurons that fire are called ensembles.
Memories are stored by changing the connections between neurons. When you recall the memory, you activate the group of neurons again and again, making the connections and pathways stronger. That's why, when you see a loved one, the visual stimulus will cause a specific ensemble of neurons to fire, and the stored memory will be recalled, allowing you to understand who the person is. [This actually works a bit like Youtube recommendations- if you watch funny cat videos, they come in your feed. Once you stop watching them, they stop coming in your feed.]
The same thing is for forgetting. Let's say you see a stray cat. An ensemble of neurons fires, connections are formed, pathways are established. The memory of a white-and-black skinny stray cat is formed. But let's say you never think about the cat again. The connections that were formed weaken, which is why the stored memory of a black and white cat fetters away, and you forget.
Hope you'll understood! [Yeah, it takes a couple of tries to understand. It took me at least forty-seven tries, however.]
OK. Now. Moving on. [Kidding. We're done for today.]
As I mentioned earlier, the next blog will not be about biology. Here's a video URL about Jupiter's moons- hope you enjoy that one. https://www.youtube.com/watch?v=M8lUgmV6Bhg
Goodbye.